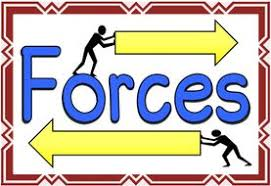 - Let's check these first links in order to find out what a force is and which is the
best way to explain it by writting :
+ Now, take your workbook and answer these questions using your own words:
1- What is a foce?
2- How can be forces measured?.
3- What is the connection between forces and acceleration?.
- Forces, vectors and Newton's laws worksheets and peer talking assessment
rubric :
* Exam from past year about concurrent and non concurrent forces :
* More complicated exercises examples related to concurrent forces
when involving coplanar ( 2-dimensional ) forces. Examples about
* This is a great link where you can find and learn a lot about
working out resultant net forces on non concurrent like and
+ Now try by yourself the following exercises about non concurrent parallel forces:
then do the following :
a) What's the first Newton's law and what does it talk about? Write the answer
down on your notebook. Make a Word file to do it if you prefer.
b) Draw an outline or a design or an example in which you could explain the
first Newton's law is being applied.
summarize the most important at your notebook or on a Word file.
can change objects' motion.
third Newton's law is and what it says. You can achieve the activity on
a Word file too if you prefer.
action and reaction forces acting in each one.
+ Next check this fantastic webpage about 2nd Newton's law and all the main
issues involved. You'll find drawings, exercises, examples, definitions, it is
just great!! , it also explains friction force with exemples :
* Steps to follow to work out 2nd Newton's law problema with friction force
+ This is a nicely done webpage from BBC in order to revew Newton's main
three laws about motion. You have there explanations, exemples, videos,
graphs, outlines, working out problems and much more. Just check it!! :
spring stretching and then answer the following questions and exercises.
+ Question 1 : What's happening at the PIC's image?. Explain it and
write it down.
image is about 7N. Write down the formula you should
use you explain the Force the spring is doing. Afterwards
figure out the spring stiffness constant using that formula
and the values of displacement and force that are
find the spring stiffness constant and also the stretching
spring will take when a force of 3N is applied.
Architecture and how they are spread out within the building structure.
architecture and the different ways that exist to spread out forces usind
Once you have already checked, read and looked up all this material
and these websites, just make a presentation about explaining and
showing how importants forces have been in architecture throughout
history and the methods and improvements that have been achieved
to make possible to buid bigger and greater buildings. You can make a
PowerPoint or just create your own file at your drive.