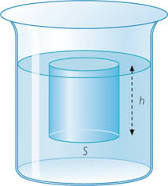 -
Website
to have a general view and study of this lesson 4 about Fluid statics.
+ What is this lesson about and what does fluid statics study? :
Fluid statics

is the branch of

fluid

mechanics that studies incompressible

fluids

at rest. It encompasses the study of the conditions under which

fluids

are at rest in stable equilibrium as opposed to

fluid

dynamics, the study of

fluids

in motion.
What exactly is a fluid? Can we understand fluids with the laws already presented, or will new laws emerge from their study? The physical characteristics of static or stationary fluids and some of the laws that govern their behavior are the topics of this chapter.